Well, the past couple of weeks have seen a slew of air conditioner service- starting with a simply check out of a new (used) rig.
On this rig (1995, or 11 years old), everything checked out fine- standard cleaning of the LP appliances, testing 120 volt and 12 volt systems, leak testing the LP system, etc. Then I get up to the air conditioner. One glance at the filters, and I figured it would be a candidate for a good cleaning, and I was right.
On most rooftop air conditioners, you can see the inside (evaporator) coils by looking up through the air return- some models are easier than others, though. This was a Coleman Mach series, so I could just see the coils, but could not access them for a good cleaning, so a trip to the roof was in store.
Getting access to the evaporator coils is not very difficult, you do have to remove the plastic shroud, and then some sheet metal on the front-
This is an exploded view of a DuoTherm BriskAir, but standard Coleman units are pretty much the same. A tip- when removing the screws that hold the sheet metal cover on, pay attention to the screws- there will usually be a few that have a blunt end on them, these are meant to usually go in to the electrical compartments, or where there are wires or tubing. You do not want to find out you put a sharp pointed screw back where it was not used originally.
Once you have the sheet metal cover off, I use a stiff bristle brush to "comb" any large lint off of the fins. Once the "big stuff" is gone, I use a good degreaser- I use VoomRV, because it is PH neutral and a great degreaser, Coleman recommends "Formula 409". I tend to shy away from most commercial A/C coil cleaners as they are often very harsh on aluminum- they clean the aluminum coils well, but I don't want the cleaner running down the side of the RV (something you don't have to worry about in home units).
I soak the coils well, then lay heavy towels over the air intake to catch any water (I put towels inside as well- just in case), then spray the coils off.
This is a good time to check the drain holes for the condensation- there will be holes in the bottom pan on either side of the tray the coils sit in. It's easy to clean them out. It's also a good idea to check the gasket-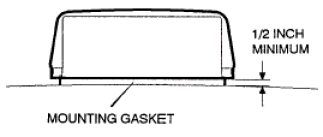 make sure the bottom of the unit is at least 1/2″ above the roof –
(images taken from sister sight- Bryant RV)
It is also a very good idea to check and clean the outside, or condenser coils. Sometimes they will be very clogged- as in the case from Dudes RV Air Conditioner page, but sometimes they might still look clean. Even if they do look clean- clean them any way! In air conditioners that have not been cleaned for a couple of years- and the unit has been used- I will consistently measure a 2 amp drop in current – just from cleaning. You will be amazed at the dirt which will come out of a clean looking coil.
While you are up on the roof with the shroud off, it is also a good time to check the fan motor- some units have oil ports- if yours does, put a few drops of electric motor oil in each port. You can also check the condenser blade. Another unit I serviced ( a DuoTherm) had a fan blade that was starting to go- it was cracking around the shaft attachment, which made it just a little of balance- to the point where it would hit the sheet metal every now and then.
DuoTherm has redesigned the blade- the old models were 4 blade, the new ones have 6 blades and a much stronger center structure. They are very inexpensive, and used on nearly every BriskAir model. The part number is 3107914008 and if your local RV parts place does not have it, you can always order it from DTI RV Parts.
I've got to say- RV roof top air conditioners are about the most reliable component on an RV, but they do need regular maintenance. As with most things I talk about, given regular maintenance, they will give years of service. Often RV air conditioners are replaced simply to add new features and lower current draw, not because there is really anything wrong with them.
Air Conditioners and more Air Conditioners by Chris Bryant is licensed under a Creative Commons Attribution-ShareAlike 4.0 International License.